Now it is possible to make PNG icons for mobile software, including iPhone, Android, iPad, Nokia, and Windows Mobile without having to worry about royalties and copyright.
Icon Editor is a fast and lightweight image editing tool designed for creating and editing icons, toolbars, navigation buttons, small logotypes and similar graphics. Fitting the niche between simplistic Windows Paint and advanced Adobe Photoshop, Icon Editor offers small-graphics designers a way to unleash creativity without the steep learning curve.
With this icon editor you can:
Create and edit icons in either standard or custom sizes, in color depths up to 16 million colors. Standard icon sizes are 16x16, 32x32, 48x48
Make icons with transparency
Make icons for Windows XP/Vista/7 in 32-bit color depth with 8-bit alpha channel
Make PNG icons for mobile software, including iPhone, Android, iPad, Nokia, Windows Mobile
Create buttons for websites
Paint images with pen, brush, airbrush, ellipse, rectangle, line, curve tools
Roll, shift and rotate images
Import and export .ico, .png, .xpm, .xbm, and .icpr formats
Sort images inside icons
Copy and paste images to other applications
Test icons
System requirements: Windows PC.


Download Free Icon Editor
SibCode Unveils New Icon Maker for Mobile Software
Icon Editor is user friendly and allows end users to easily create and edit PNG icons for mobile software in either standard or custom sizes and in color depths up to 16 million colors. Icon Editor has the capability to make icons with transparency and icons in 32-bit color depth with an 8-bit alpha channel for Windows XP, Windows Vista, and Windows 7 operating systems.

Icon Editor is multipurpose software that offers the versatility to create buttons for websites, paint images with a pen, brush, airbrush, ellipse, rectangle, line, and curve tools. You can also use the software to roll, shift, and rotate images as well as import and export .ico, .png, .xpm, .xbm, and .icpr formats. Adding shadows or making highlighted or disabled versions of the same icon are easy with Icon Editor. It only takes a few clicks to add a translucent or opaque shadow, modify opacity, colors, and gamma.

Disabled icons are typically grayscale, so there is a tool for that as well. Tools for smoothing, inverting and colorizing images are also available. The resulting image can be saved in .ico, .icpr, .bmp, .jpeg or .png formats. Icon Editor can also convert Mac icons into Windows format. With Icon Editor it is possible to test the icons for appearance and functionality as well as copy and paste images into other applications.

The 4.1 version of Icon Editor offers the capability to order stock icons directly from the software program. When looking for icon images to use for a website or software applications you usually face the dilemma of costly development and royalty obstacles. Enterprises that have the capital to employ graphic artists and designers are able to get their own unique icons done onsite.

For smaller businesses it is necessary to outsource the making of icons to graphic designers who command a hefty fee to create unique icons for websites and software applications. The downside of this is that there is risk involved with not getting the graphics drawn to specs and other problems and it is important to choose carefully if you decide to choose this route.

The capability to create icons or edit stock icons saves smaller businesses time, money, and the possibility of getting a result that does not meet expectations. This also eliminates issues with royalties, copyrights, and the risk of having your icons look like those on other software applications while adding uniqueness and individuality to your business.

Icon Editor helps startups and small businesses create a professional looking image without breaking the bank. You can choose to create your own or obtain stock icons which you can edit and use at your discretion. It also helps to speed the development of software applications and removes the uncertainty of the appearance of the final product.

To assist with the use of Icon Editor, SibCode recently released the new Sib Icon Catalog. This is a free Windows tool to help webmasters, Web and software developers find and purchase ready-made graphics. Indexing hundreds of royalty-free icon collections and thousands of tagged individual icons, Sib Icon Catalog makes it easy to locate, preview, and buy icons for almost any project without having to spend hours searching. All of the icons in the catalog are carefully indexed and tagged making it possible to find just the right icon in minutes.

With the free Icon Editor and access to millions of royalty-free stock images which are available in numerous formats, sizes, and color depths, all of the guesswork and uncertainty is removed from creating professional and unique icons for software applications. Icon Editor can be downloaded free from www.free-icon-editor.com.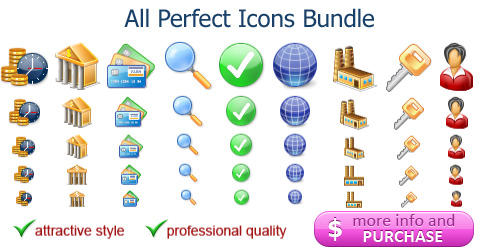 Toolbar Icons for Business
Icon Articles